Dibi's colleague had a business trip to Kyoto, Japan. He took a picture of Kyoto station. The modern steels structure of the station appeals to Dibi a lot. Blue sky and surrounding shopping malls can be seen through the holes of steel frame. She can feel the strength of the building and its eager to connect and communicate with the environment.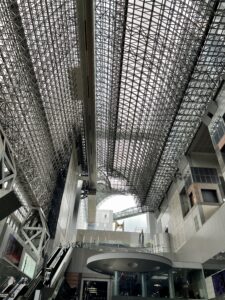 Then how about doing a show here?
Her IT colleagues fix the stage, light and music for her. Dibi is now having a show at Kyoto station, Japan. She is wearing a dress made of traditional silk used for kimono but designed by modern 3D virtual technology. Just like the station, designed to connect the traditional city Kyoto and modern life.
And just like the limitless sky above the steel frames, Dibi's show and her willing to express are also limitless.