Needless to say, people have clearly realized the universal application of AI and the far-reaching impact that AI is having and will have in various industries.
 
We believe that in the field of sustainable fashion industry, before reaching the true AI fashion, there must be a process of AI in fashion.
 
In SdibiT's 15 years of work experience, we encountered various problems. Among these problems, we think there is one need to be solved with the help of AI very urgent and finally achieve complete automation.
 
We have explained that we already have countless body-block corrected patterns. Match and exchange them like LEGO, more than 10 billion design types can be generated in seconds.

However, at present, the number and type of matches are calculated manually. The operation efficiency is especially low when some patterns can not simply be matched and should be used with specific restrictions. And the conclusion is that, there must have judging terms first to judge whether small patterns can be matched and combined. Then the match and combination operation can continue according to match terms.
 
We are always trying hard, but we have reached the limit relying on manual calculation.
As shown in the photo, we conducted an experiment with reference to a style structure of #Burberry Prorsum RTW-F2015. You can easily find out that this process is a typical donkey work.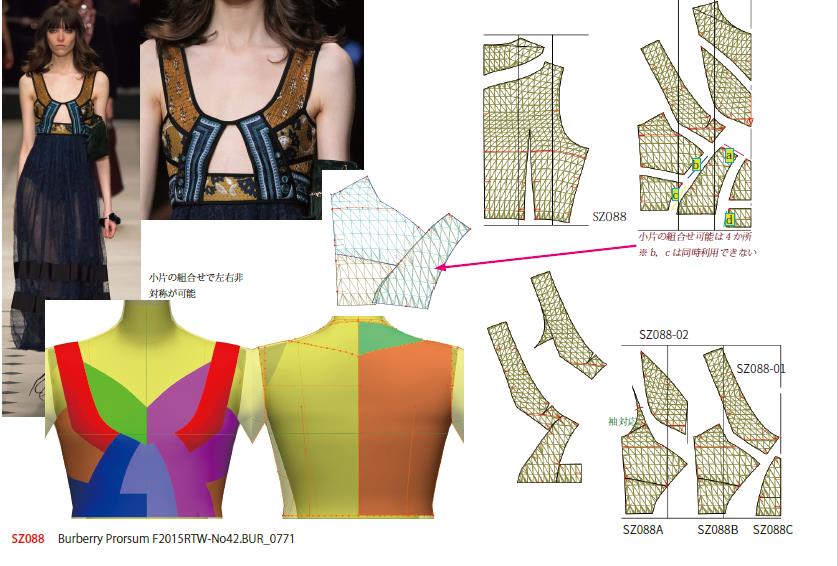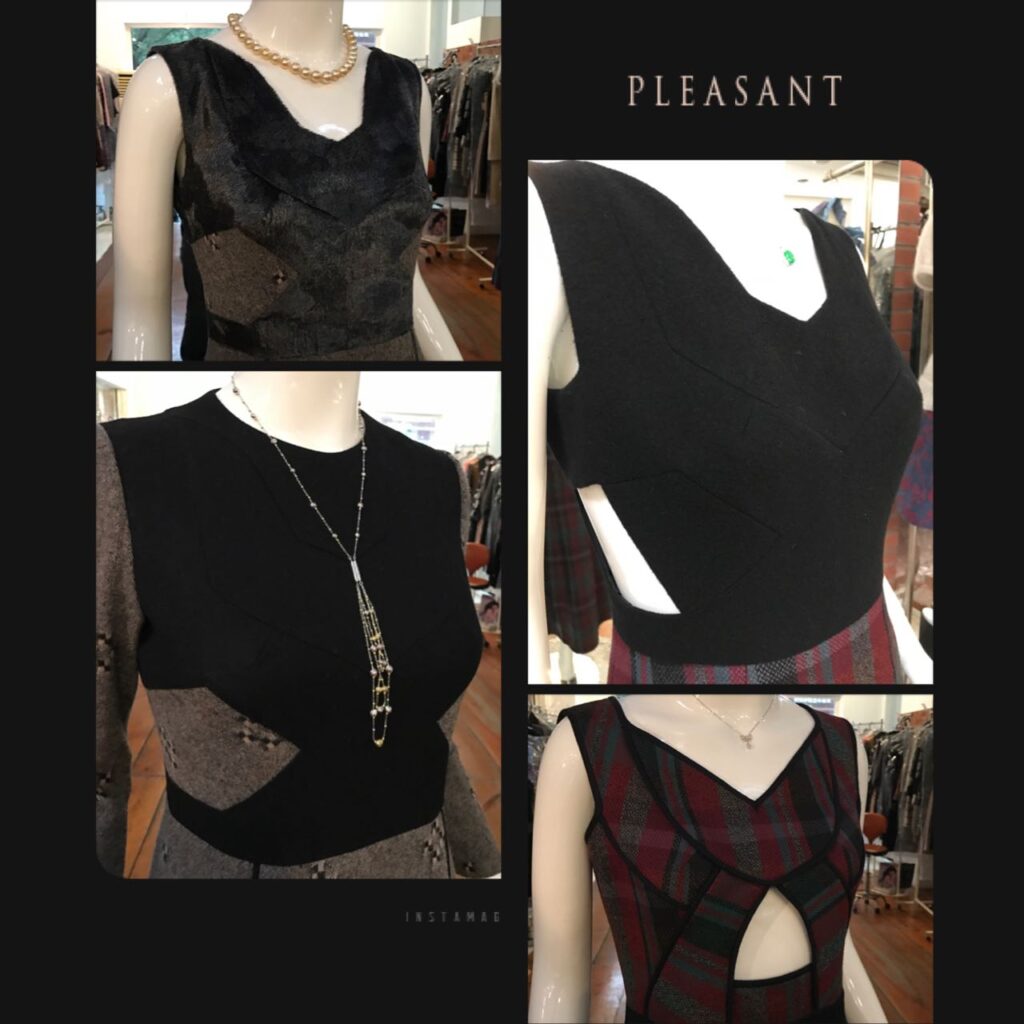 We hope that when judgment terms of feasible match are confirmed, we can complete all types of small patterns that can be matched with the help of AI. And all these combined patterns can output the 1:1 actual size patterns for production downstream.
 
We believe that solving such key problems needs the help of AI, which is the process of AI in fashion. Once this process is completed, AI automatically generates and recommends the clothes according to various terms. The recommended clothes can be produced in reality and can be directly worn by people while ensuring the same Fit&Size in real. Then AI Fashion will naturally be achieved.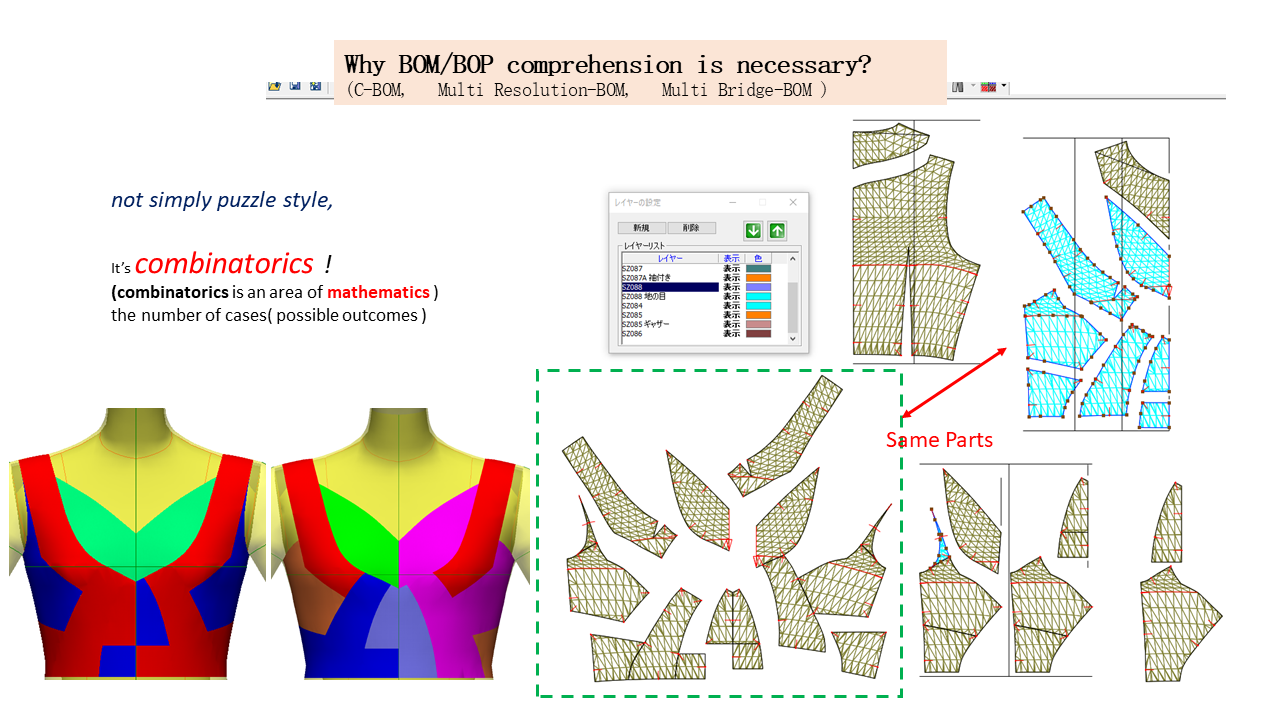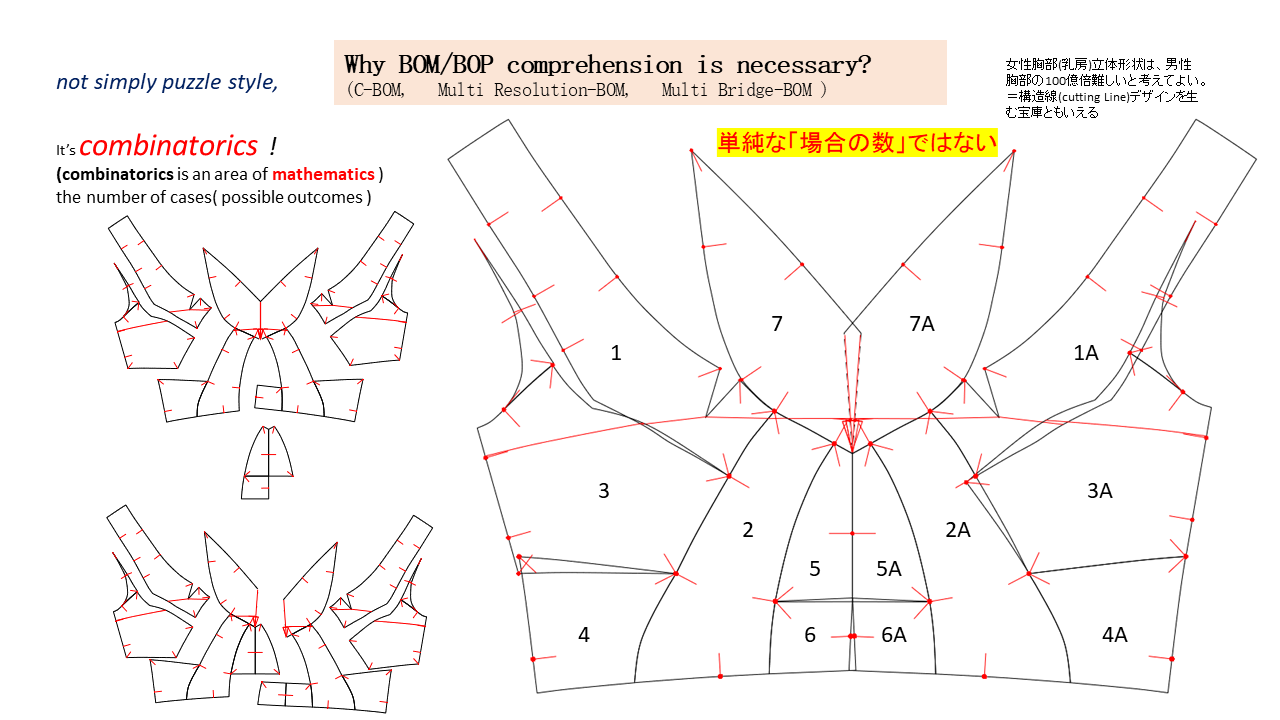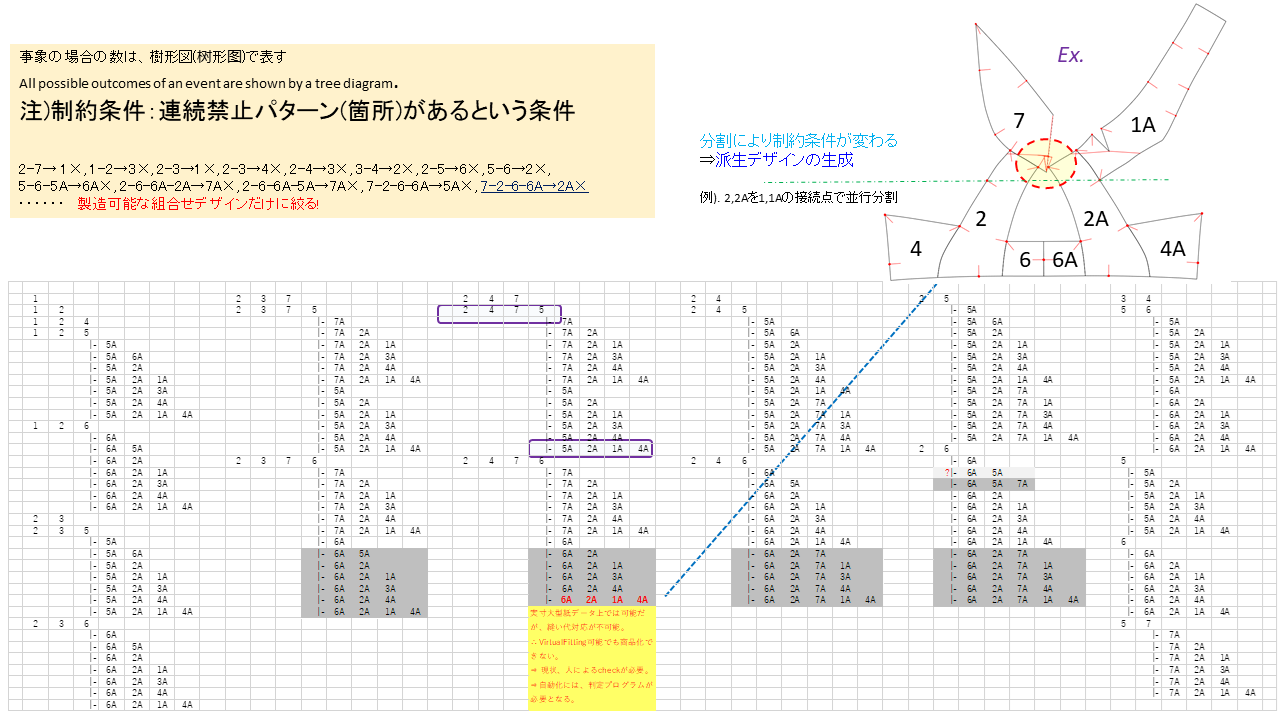 CTO Mr. Tomii recommended me to read an article before. The article says that "at both brand and industry level, it's time to leave the 3D testing laboratory and move into full production when it comes to digital product creation." I absolutely agree with it.
We mentioned above that if judgment terms of feasible match are set, with the help of AI, match and combination of small piece patterns can be automatically completed. And all these combined patterns can output the 1:1 actual size patterns for production downstream. Then the physical clothes has the same Fit&Size effect as the virtual clothes. It can be called DigitalTwin-Matching clothes that consumers really want and can wear directly and frequently. Then the realization of AI Fashion just needs some time.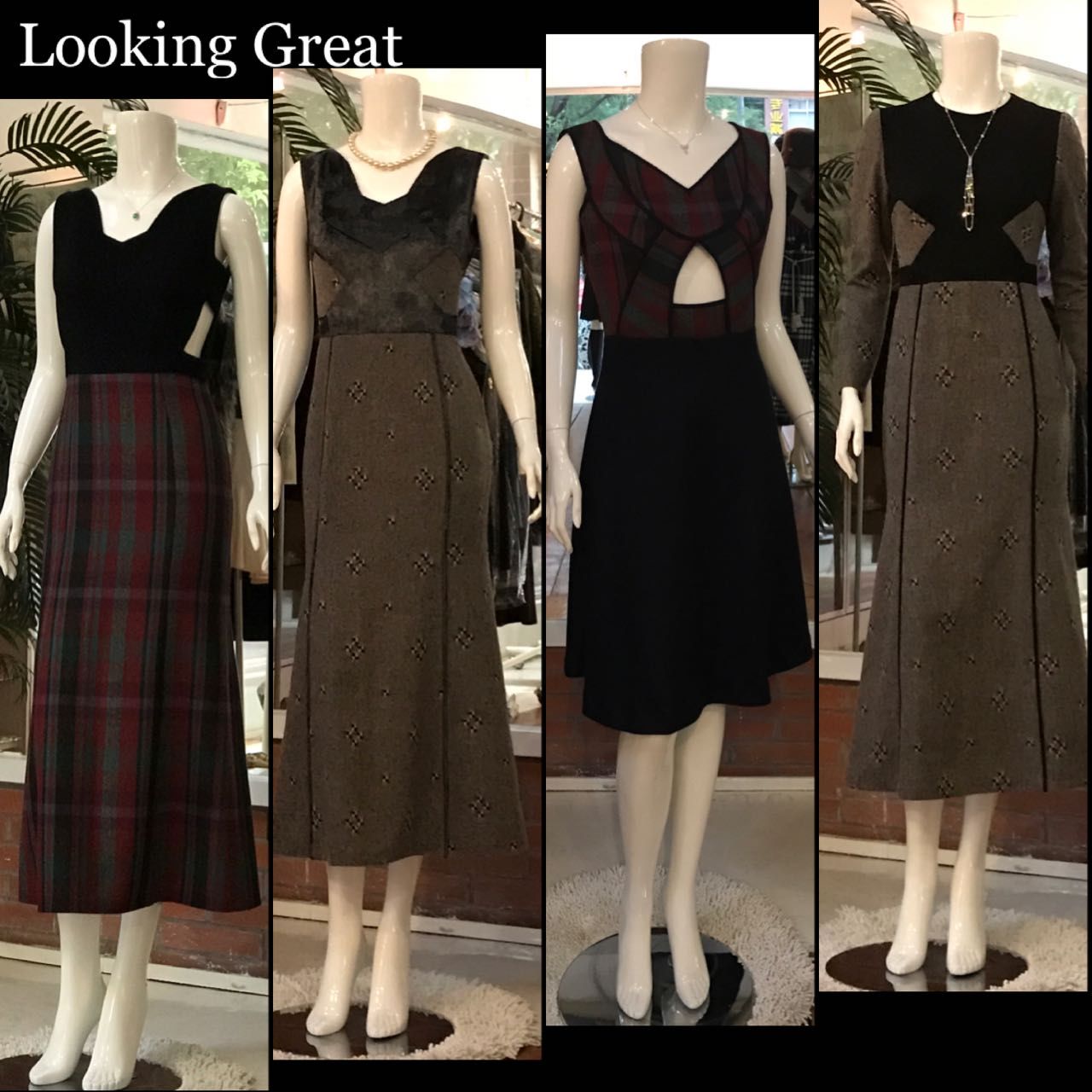 When Virtual fitting gradually becomes a common shopping method, to provide consumers with more VR clothes to choose, the design and pattern-making department will have to do a lot of work on garment simulation and visualization. Pressure of designing new looks will also increase. This means that compared with other process, if design and pattern-making department can not increase their work efficiency dramatically, it will become the cost center in the business chain.

CEO(CXO,Business Executives,etc.)must be sensitive to business cost and work efficiency. From the view of CEO(CXO), for classic style items such as suits and shirts etc., the silhouette is basically stable although the cutting lines may differ. The national costumes such as China's #cheongsam, India's #PunjabiSuits and Vietnam's #AoDai etc. have their own unique cutting lines, but the silhouette of each kind basically keeps stable. SdibiT has mastered the method of digital modular design management and has the interchangeable application with countless body-block corrected patterns at the same time. Now that we have met the two necessary conditions, if we can use the power of AI to recommend new looks accurately and efficiently according to consumers' expectations through LEGO type matches and combinations, and ensure the same Fit&Size effect between physical clothes and digital show, what a tremendous AI fashion business we can achieve.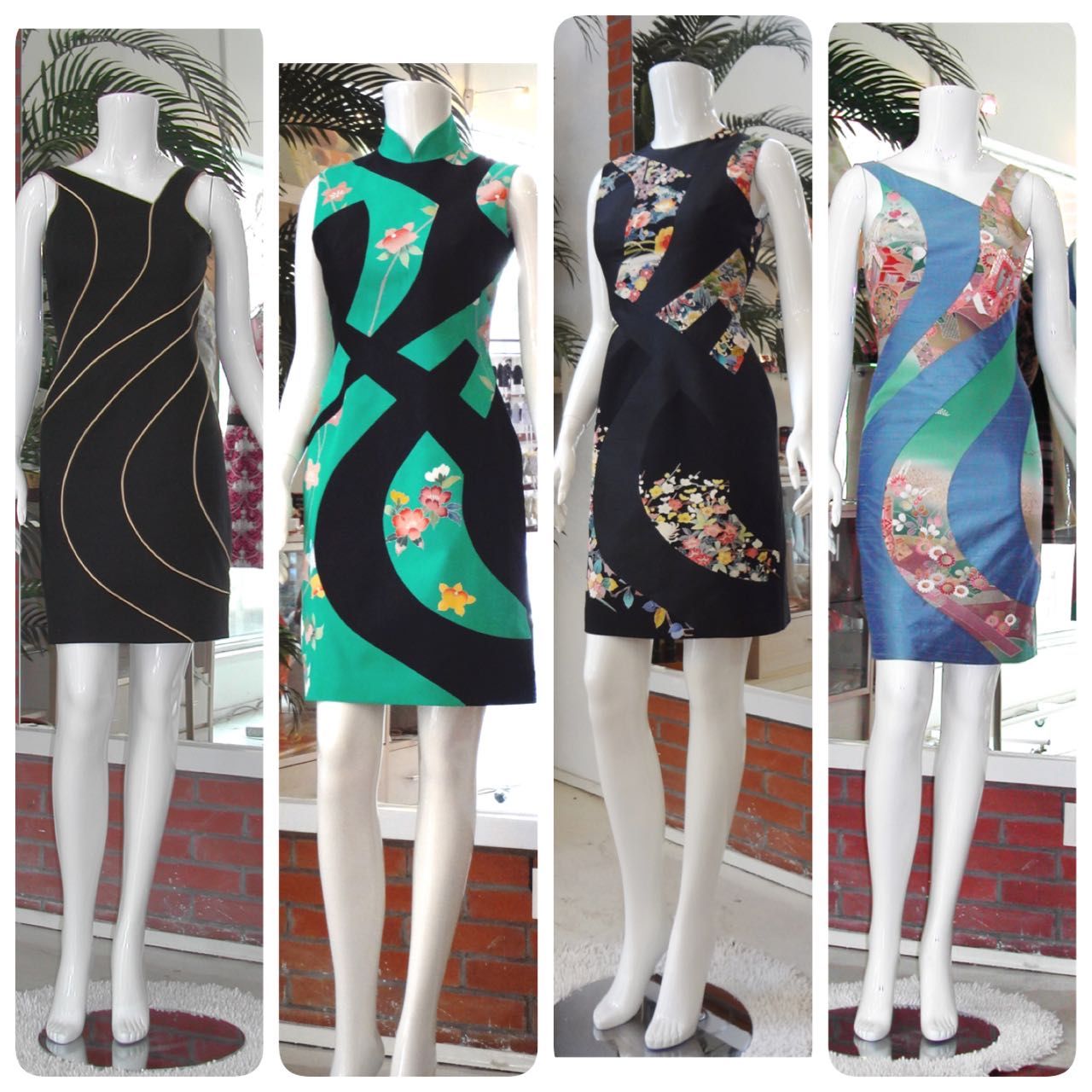 Our CTO often said in a half-joking, half-serious way that life wear in the concept of #UNIQLO is a typical classic style category in ready-to-wear. UNIQLO spends a lot of money on collaborations with different artists every time. If president YANAI can invest 1/10 of each collaboration's cost in the research and development of the process we mentioned above, a complete different experience can be brought to consumers.

We clearly know that the Mix&Match R&D under the AI in Fashion mode is SdibiT's first priority at present. If there are investors who recognize our business judgement or relevant R&D teams, please contact us without hesitate. SdibiT looks forward to achieving the goal together with you and witnessing the unparalleled new experience and satisfaction brought to consumers by AI Fashion.
We encountered software and hardware obstacles during the visualization process of the invisible data processing more than a decade ago. Under the judgement standard of "seeing is believing", it was difficult for us to get recognition from enterprises before and it also took us a lot of time and energy to communicate and present. In recent years, thanks to the progress of various visualization tools, we obviously see that the number of enterprises that actively consult and start cooperation is increasing every year.

There is one issues we must point out here. Through all kinds of attempts over a long period of time, we found that 2D grading method is the main factor that hinders #DigitalTwin-Matching,and it can not meet the data requirement of #AIinFashion based on algorithm. Each size must be set in 3D version by 3D grading method in advance and then be converted to 2D patterns. In this way, small pieces patterns are possible to automatically match and combine with AI.

3D→2D→3D, the source must be the design in 3D state. Only in this way, the generated 2D pattern used for production and #3Dmodeling can restore the original 3D design on 3D human body. This step is irreversible.

In the 2D→3D way, if you do 3D modeling using the patterns generated in 2D Cad by 2D grading, automatically generating different sizes patterns according to a certain ratio, you can only get Imagine-Matching. You can not ensure the consistent fit&size of each size no matter how the design changes. On the other hand, even if the side lengthes or perimeters of the patterns of different sizes are the same, in order to ensure fit&size on the body, the shape of the 2D pattern must be modified according to different parts of the body, it means that it must be the pattern corrected by BodyBlock, otherwise, it can't meet the accurate judgment terms using AI.

As one of our experimental cases shown in the picture, referred by #LouisVuitton's structural line, the shape of this small piece is different in each size by 3D grading after BodyBlock correction, that is impossible for 2D grading.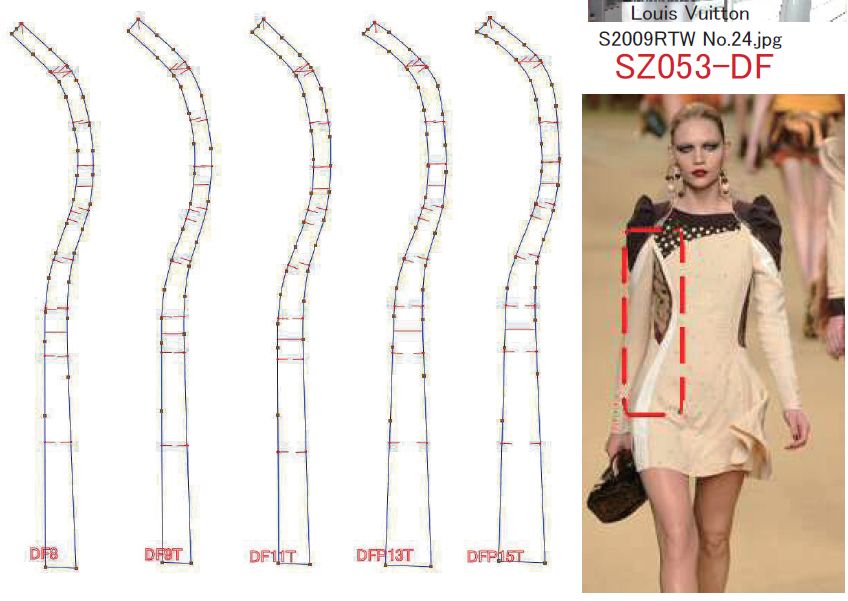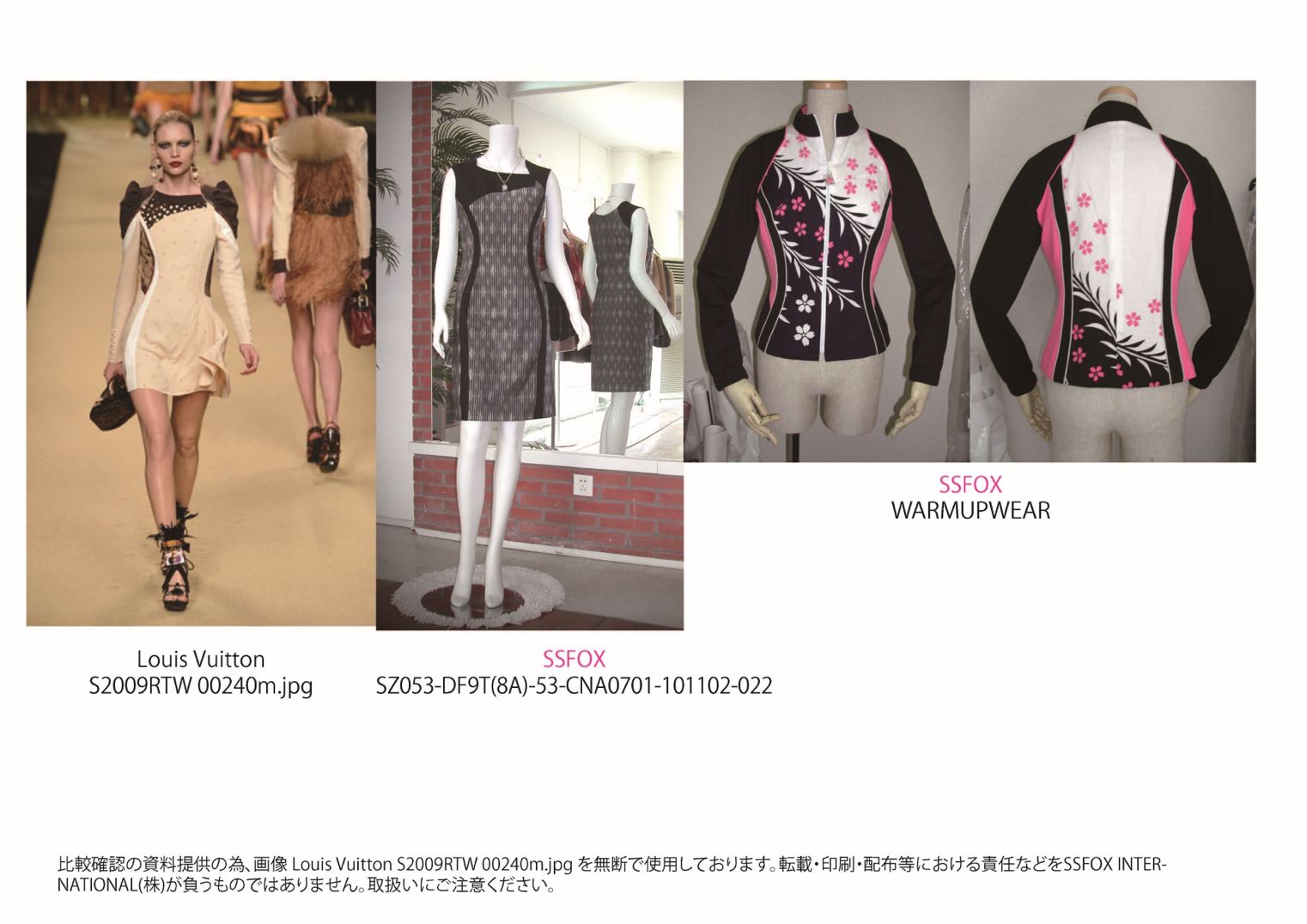 If we continue to use 2D grading method, it means that we choose to give up using AI, a powerful tool, and take another path.

In fact , we have figured out the working efficiency difference though our working experience statistics. Using 3D grading, once the interchangeable application based on #digital modular design management is formed, the average operation time of design and pattern-making is less than 1/10 of the traditional way, and even can be 1/32 when doing works for regular category.

That is to say, using the same method as SdibiT and doing 2-3 years #design data accumulation and management work, annual output of about 20000 looks like #ZARA will no longer be the benchmark of the industry, but the norm.
If there are investors who recognize our business judgement or relevant R&D teams, please contact us without hesitate. SdibiT looks forward to achieving the goal together with you and witnessing the unparalleled new experience and satisfaction brought to consumers by AI Fashion.

In short, as shown in the picture, this is one of the cases we have experimented repeatedly.
We generated body-block corrected patterns with reference to the construction lines of #Versace's dress. Guests of different sizes can freely choose the parts of sleeves and skirts and do personalized combination to small pieces of patterns. Our designers and pattern makers do not need to do extra work. They only need to retrieve the pattern pieces from the style database according to customers' requirements and output the final complete pattern. Then the factory can produce and deliver the same goods expected by end consumers.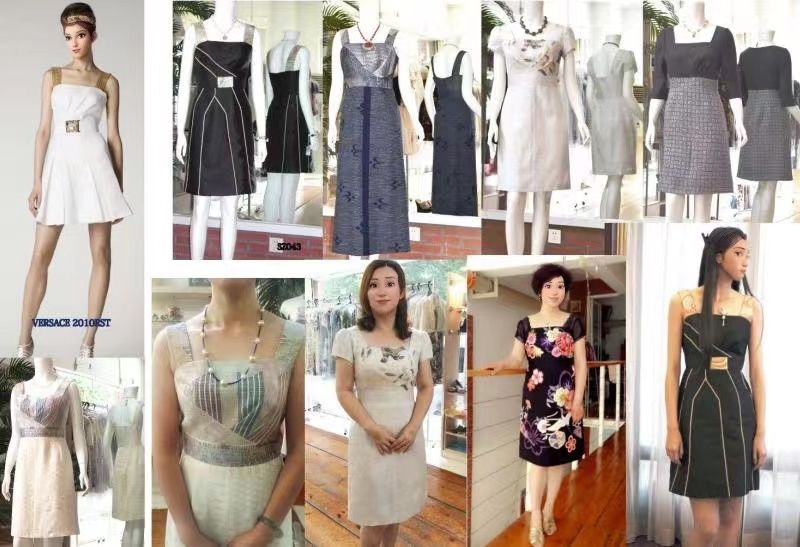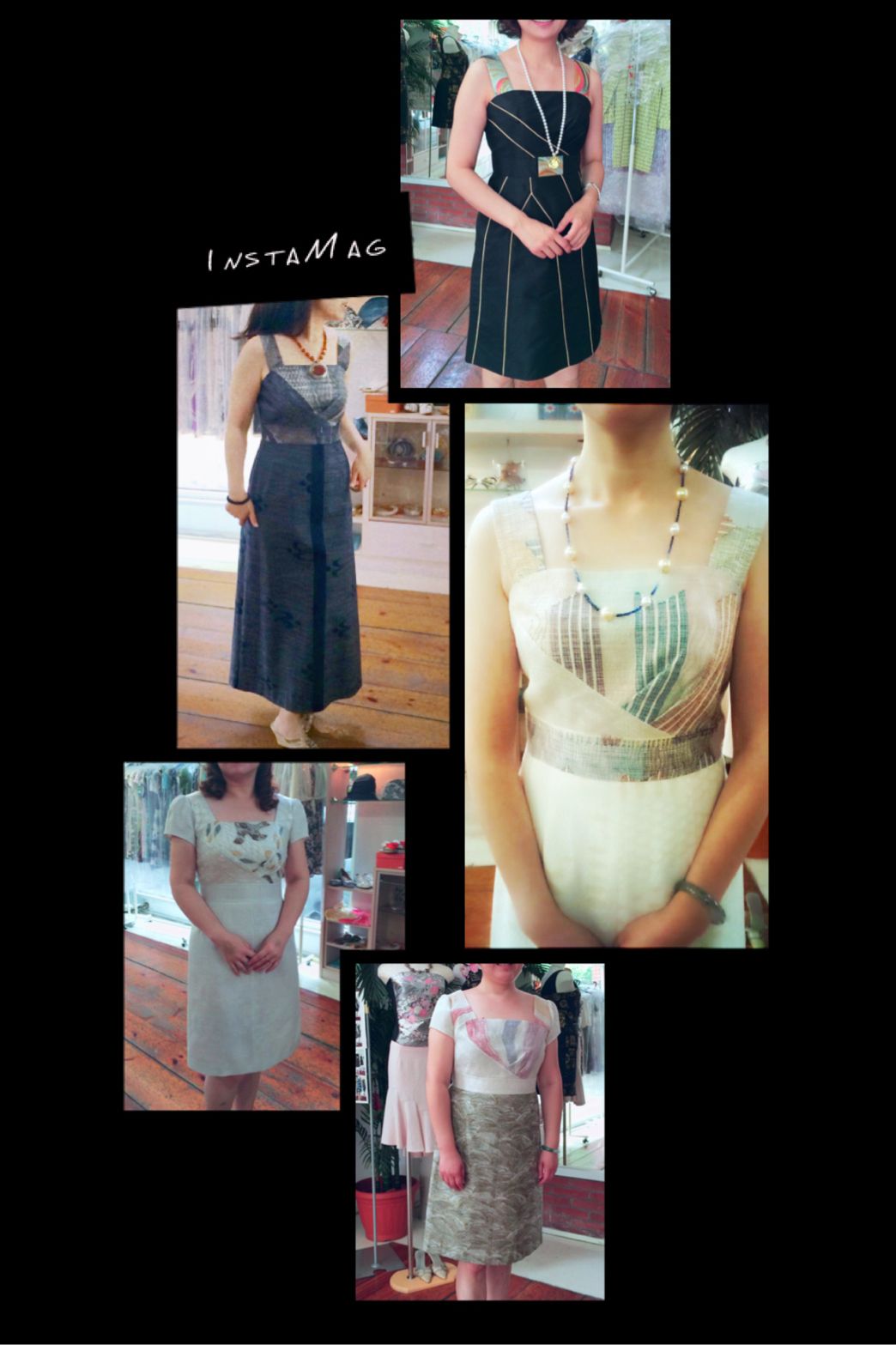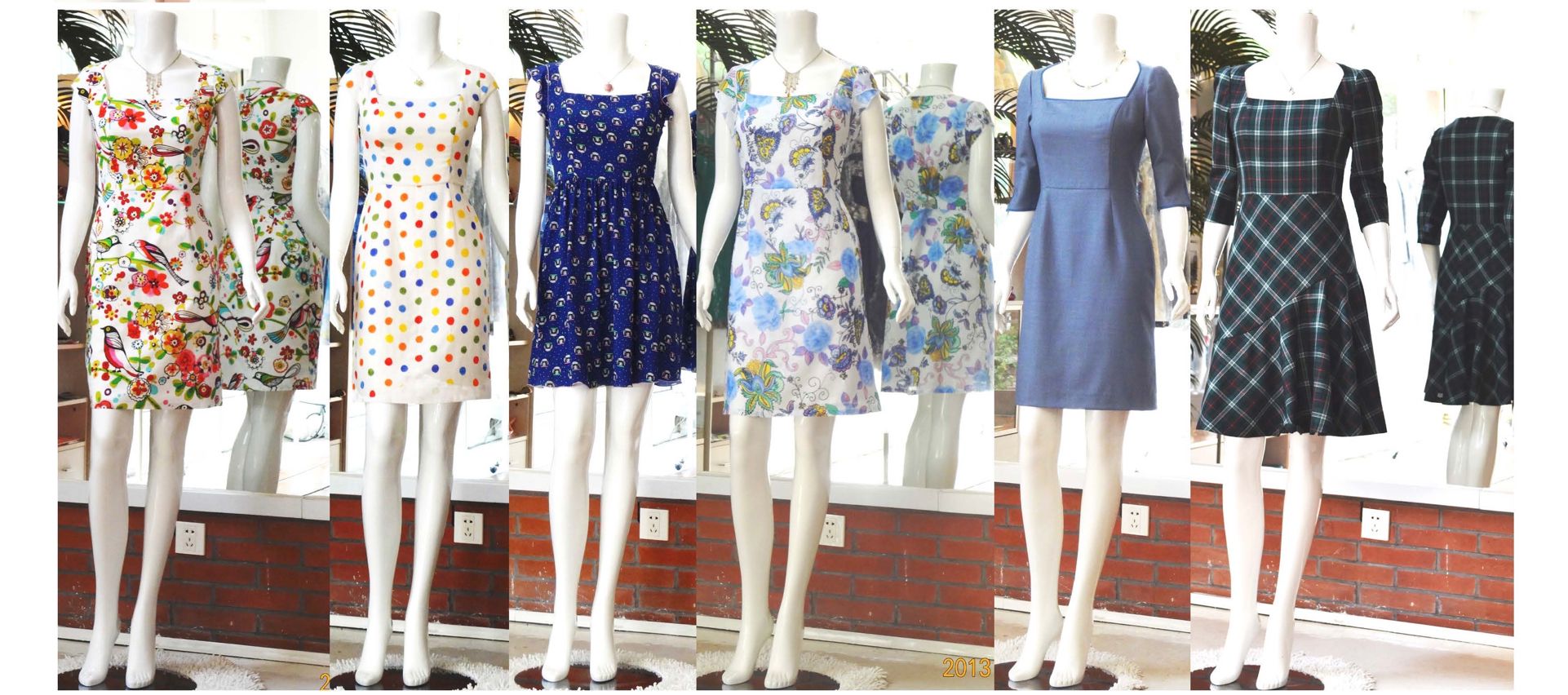 In the next 3-5 years, we expect to improve the functions step by step, cooperate with excellent teams in the world, and gradually form a shopping mode connecting metaverse as the heroine X we discussed before.

At present, there is no other solution we can think of that is more environmental friendly.
11th Sep, 2022